I'm thinking of adding a category to my store. It has to be a happy category, it has to make me smile. The category will be about round things! No, I won't put the eyeballs in this category, turns out those eyeballs don't make EVERYONE happy. But then again you can't make everyone happy all of the time, right? No I want to do a category all about Polka Dots.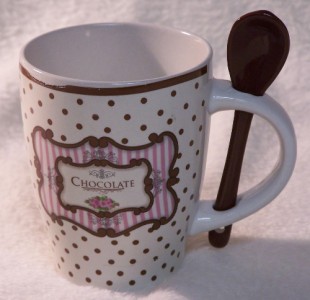 Like this polka dot chocolate mug, I'm thinking that all this mug needs is some ice cream, hot fudge, nuts, whip cream and... me. Yep that would make me really happy! Ta.. daaaaa Mr. Mug you get to go in the new category! This mug makes me happy.
Polka dots have come a long way! When the European dance, Polka became popular here in the good old' USA, they brainstormed to find a good way to promote the dance... hence they used the dot. Get it? Get it? Get it? (Don't you find it annoying when someone does that?)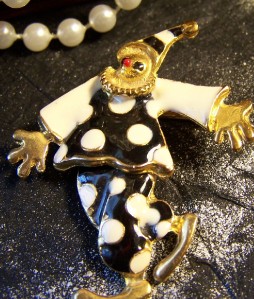 Look at this little clown and his polka dots.. and look! I see pearls in the corner, that is a surely a polka dot if I every saw one. Mr. Clown gets to graduate to the Polka Dot Category too.
I found a polka dot blouse this week that ties around the midriff. Oh it is so cute. I'm thinking I should look for ties too. What do ya think?
If you like polka dots you would be interested to know that psychologist say if you like to wear polka dots then you love to please people. Of course clowns wear polka dots and their job is to make people smile. Women love pearls, and men give them to make their girl smile. (Well at least that is what I heard. My husband apparently DOES NOT want me to smile as I've yet to receive my June Cleaver pearls)
Lucille Ball was known for her polka dots, look how she made us smile... looks like Ricky is pretty happy right now too. Ooh la la... Ricky you were one hot musician back then. (I married a hot musician myself you know, and I may or may not have worn a few polka dots myself)
Whoa Nellie! Where did that come from? Yikes... okay this might make me smile for a minute, but really? Maybe..it would grow on you... naaaaww.
I'm thinking that I'll just spark up some romance with my musician in my "Lucy Dress", maybe put on some "June Cleaver Pearls" and carry a little "Paris Hilton" dog around with me. I'm just hip that way you know.
I'll make those darned categories as soon as I find my little pooch...
Remember, make your own little niches in your stores, bring a smile to your customer and create an interesting place to browse!